Pinball Events & Party!
PINBALL WORKSHOP 2011 VERDENSTEATERET SANDEFJORD - NORGE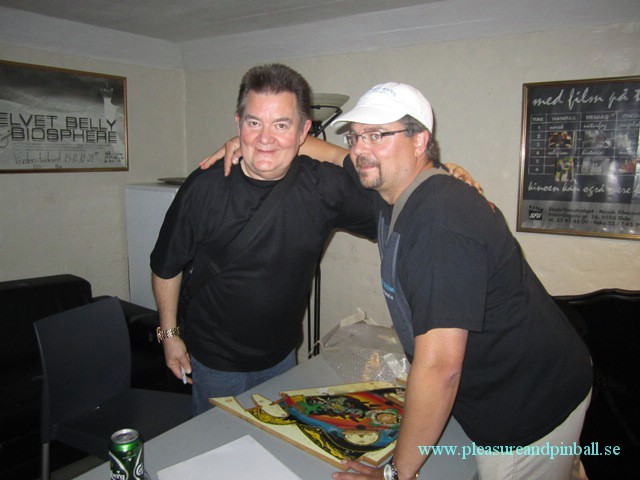 Pinball Workshop - is an annual event that returns in Norwegian Sandefjord. New for this year was that a Special Guest were invited to the event to give a lecture about pinball. The special guest was Steve Ritchie, who at one time was the game designer for Williams and that has designed several of Williams big titles such as Flash (1979), Firepower (1980), Black Knight (1980), High Speed (1986), Terminator 2: Judgment Day (1991), No Fear: Dangerous Sports (1995).
It was given to me to bring pinball flyers and playfield plastics to get them autographed by Steve Ritchie at Pinball Workshop - what made me especially happy was to get the playfield to my Williams Black Knight autographed by the designer to the pinball machine - Mr. Steve Ritchie.
A visit to Pinball Workshop is recommended and is a must for a true pinball enthusiast!
FLIPPER-SM 2009 IN BORÅS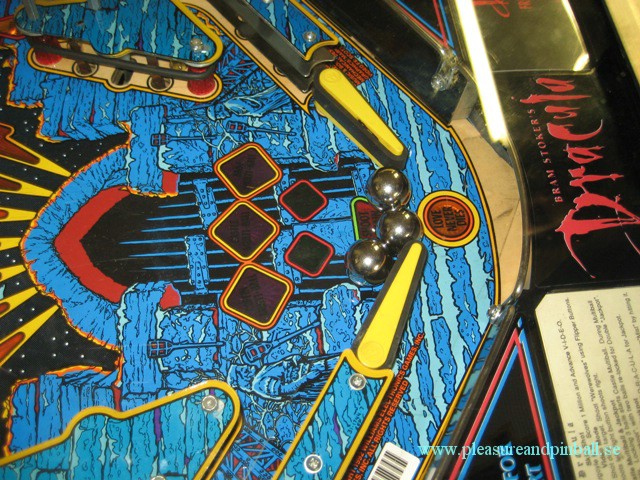 SM 2009 - Swedish championship in pinball which this year took place in Borås gathered 171 participants in the main event and 111 participants in classics also called for scrap competition or complement competition. The classics are played on older pinball machines and it is a little shift in gaming technique compared to the WPC pinball's used in the main event, the older pinball machines has sometimes yellow or red rubber rings on the flippers and the ball bounces more when doing a drop catch and control of the ball has a tendency to decrease when playing on these older pinball machines. The pinball machines that we play on in the qualifiers rounds is assigned by lottery and in the main qualifiers round I was assigned the following machines Indiana Jones, Cirques Voltaire, Dracula and Twilight Zone. I was pleased with my performance on the Indiana Jones and Twilight Zone but managed to do a Tilt during Coffin multiball and Mist multiball on Dracula. Cirques Voltaire was a real drain example so it become naturally a great disappointment for me. In classics, I qualified on Nitro Ground Shaker, Viking and Roller Disco and in the latter I put a nice score at 526,240 points and ended on 36´th position, in the main qualification I ended on 99´th position which could have been some better if I had not Tilt some balls on both Dracula and Indiana Jones. It is to calm down my style of play and practice furthermore, in view of future contests!
BPO 2009 - BORÅS PINBALL OPEN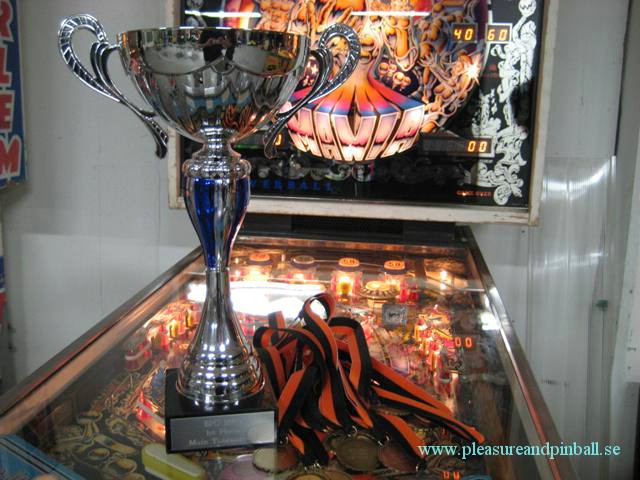 BPO - Borås Pinball Open - the qualification pinball machines was of a high standard and it was between 70 to 80 participants. There were plenty of games to play on after qualification rounds and a lot of side tournaments were held, one hand, blind fold, dragster. I managed to performe a decent qualifying round on the following machines Mousin Around, Jokerz!, No Fear, CFTBL, Fish Tales and Indianapolis 500 and ended on 33´th position of 77´th participants. I missed the playoffs by one point but it still felt like I was happy with my performance.
PMO 2009 - PINBALL MASTERS OPEN LIDKÖPING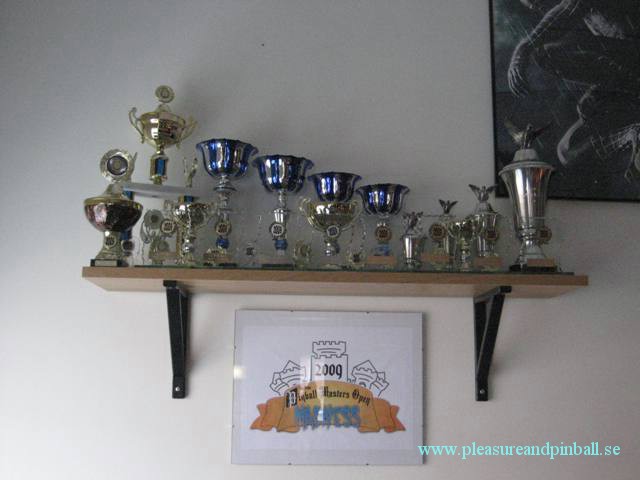 This years PMO competition at silver-ball Maniac Pinball Club attracted about 60 participants from across the country and a Norwegian and two Danes to compete for nice throphys. Qualification rounds was held during 3 days in a new place that is larger and more spacious and also looks better then the place used in the past. The qualifications in the main contest was carried out on following pinball machines Dirty Harry, Attack From Mars, Spiderman, Doctor Who, The Addams Family and classics was carried out on Fireball II, Centaur, The Games. Finals took place during the competitions final day and finished late at night / morning. My qualifying performance in the classic and the main contest was mediocre but a nice score on The Addams Family, 219 million points made me happy. There was also side competitions as Split (play toghter with another player, by using one hand each for the flippers), set the highscore and individual play by using only one hand.
ALB's 7-YEARS PARTY WITH FRIENDS 2009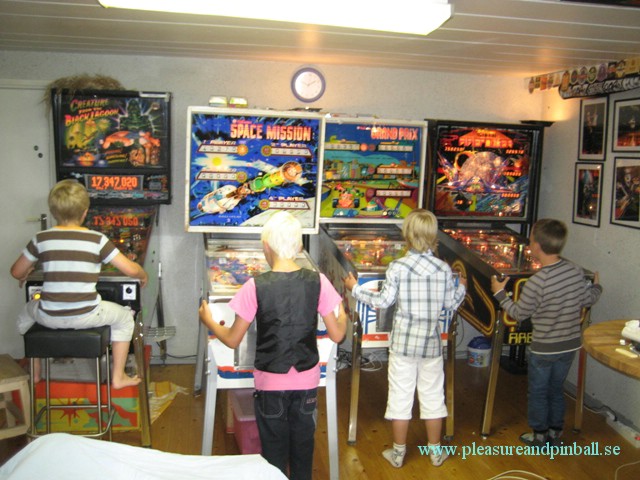 In July my son Albin (ALB) had his 7-years birthday and a party was arranged with his friends. At a children party shall disered food and birthday cake be served. Also shall some activities be arranged as tresure hunt, jump in a bag and so on. A appreciated element was to play pinball for a while and it may be that we here see the next generation of pinball players?
MONTHLY PINBALL TOURNAMENT AT SILVERBALL-MANIACS IN LIDKÖPING DECEMBER 2008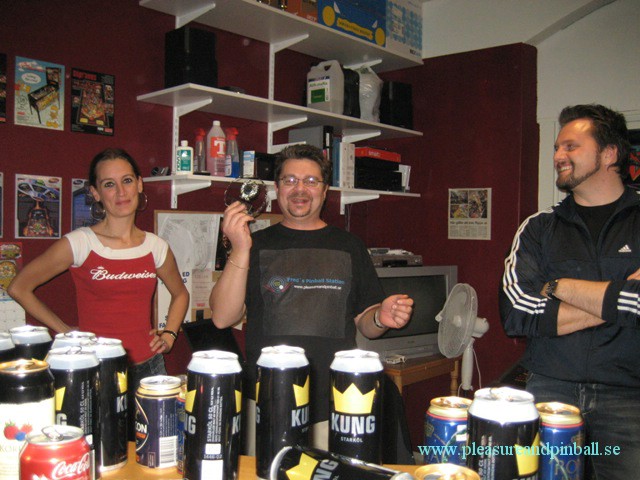 An annual trophy tournament is held in the month of December at Silverball-Maniac pinball club. They have a nice collection of pinball machines in good standard and it is always nice to meet the people who arranged this event. It went well for me in Classic qualification and finals gave me a 2nd place with a silver trophy as profit!
CHRISTMAS PINBALL AT HOME 2008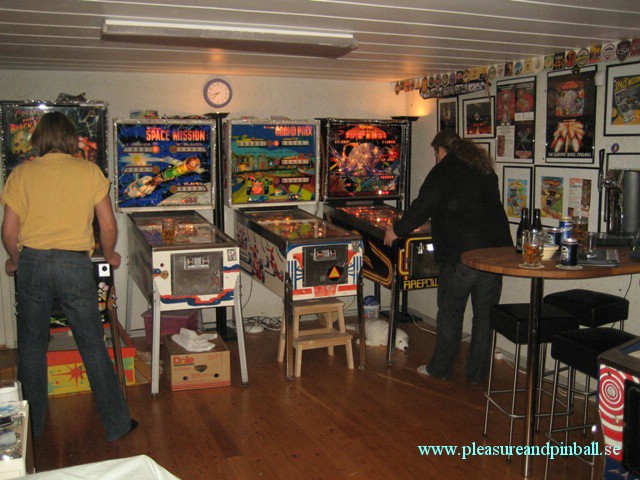 When it is cold outside and Christmas approaching, it is nice to play pinball. One night in December a few friends of mine was gathered to drink mulled wine and play pinball.
40´th BIRTHDAY PINBALL PARTY 2008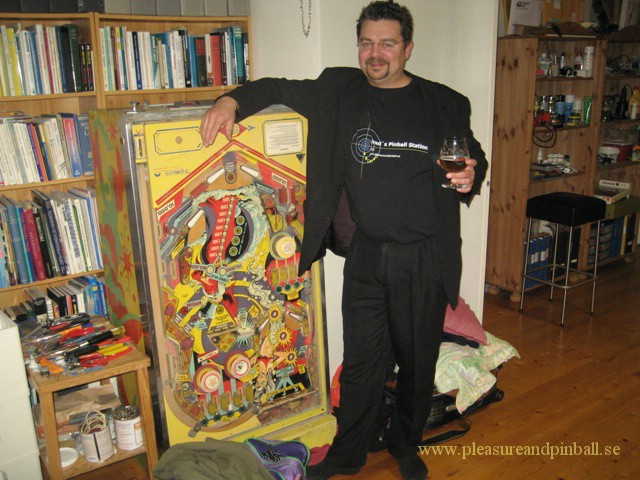 A party where hold when I celebrate mine 40´th birthday with friends and relatives. Of course the focus was hold on pinball's and the major party took place in the game room. The Friday night was spent with a mini tournament on the machines and afterwards sauna and some beverage. My friends gift was a Gottlieb Genie 1979 Pinball - could you get a better birthday gift? Click on the image to view some pictures from the two days party.
PINBALL WORKSHOP SANDEFJORD 2008 - NORWAY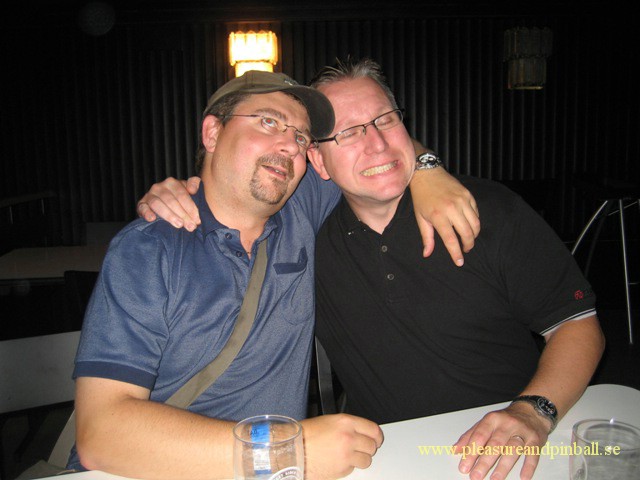 Here we go again, two happy "gutter" in Norway!!
PMO 2008 - PINBALL MASTERS OPEN LIDKÖPING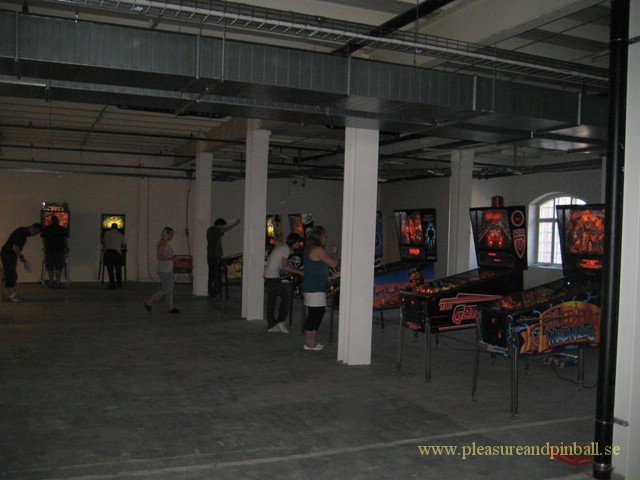 A annaul pinball challenge is hold in Lidköping at Silver-ball Maniacs Pinball Club. This year it was 80 participants from all over Sweden that was trying to keep the silver ball live on the playfield as long as possible.
BPP 2008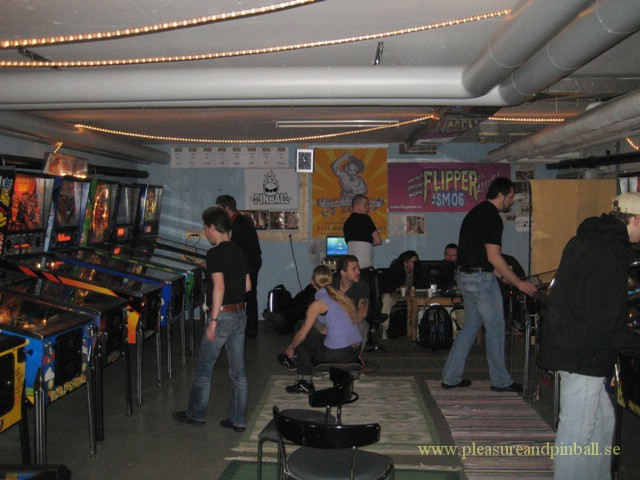 Me and TEX attended in Balacs Pinball Party 2008 in Alingsås. A nice competition with a lot of people in the cramped basement room "bunkern". It became hot during qualifications, but it worked well with the extra fans to cool the players. Qualification went out bad - I played poorly on both EarthShaker and Dr Who, but achieved a good score on the Judge Dredd 180,956,390 points.
MONTHLY PINBALL COMPETITION DECEMBER 2007 AT WEST COAST PINBALL IN ALINGSÅS
Me (FED) and Thomas (TEX) visiting West Coast Pinball to participate in their "monthly final" in "the bunker" a basement room located in the central parts of Alingsås, hence the name "the bunker". It is a nice bunch with many fine pinball's. In picture above, Albin (ALB) is here 5 years and think it's among the funniest to do is to comply with Daddy and play pinball contest. He has with him his plastic stool to stand on so that he reach when he will play. in the pictures we also can see TEX boy Jonathan (JEX).
FLIPPER-SM 2007 IN MÖLNDAL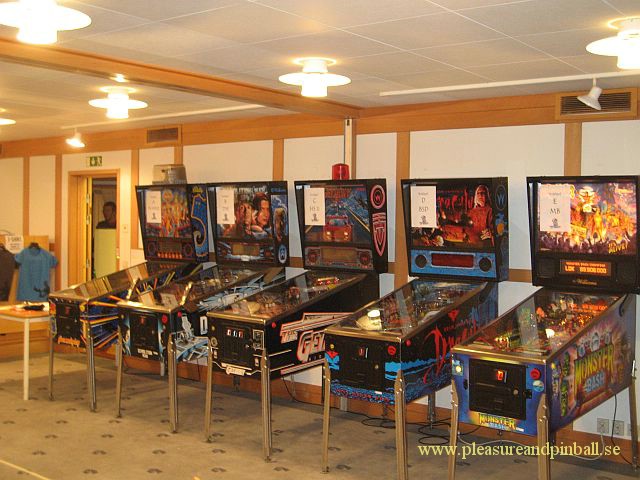 Yes, it was time to make the entrance at the slightly larger contexts namely SM - Swedish championship in pinball which this year took place in Gothenburg. It felt large to participate in a SM where it was thought that only crème de la crème or the best of the best of pinball players participated. But it proved to be an open competition for anyone "Kreti och pleti" as we says in Swedish so it was just to sign up and go down and mingle among all pinball machines and nice people.
PINBALL WORKSHOP SANDEFJORD 2007 - NORWAY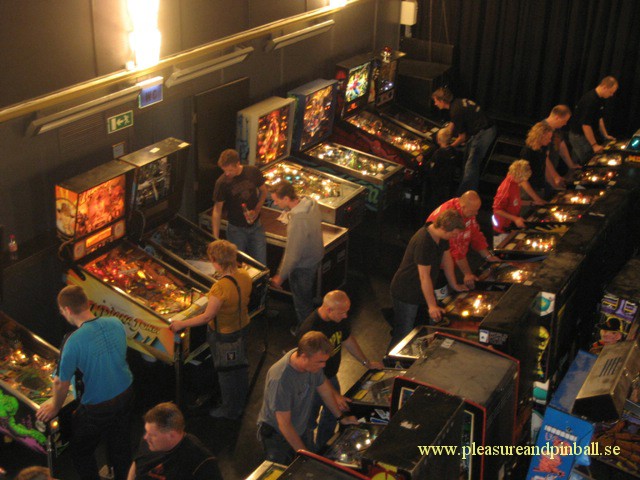 Pinball Workshop - as the name suggests this event in Norwegian Sandefjord has not focus on competition as other events, instead the focus is to meet other pinball enthusiast and talk about pinball machines, in some cases even mechanical them. It is the participants who bring pinball machines to this event. There are however, a pinball tournament held for those who attend on Friday and Saturday night.
This is a very popular event so there are many people from Sweden who take part. You can expect that there are always a few pinball machines on display that you not previously have tried since the variety is high among the exhibited pinball machines. A key element of this event for us Swedes is to make a tour to Parts 4 Pinballs arranged by Ole and Elisabeth during Saturday. Always happy and pleasant they arrange the ride to their warehouse and stockroom outside Sandefjord.

A visit to Pinball Workshop is recommended and is a must for a true pinball enthusiast.
PMO 2007 - PINBALL MASTERS OPEN LIDKÖPING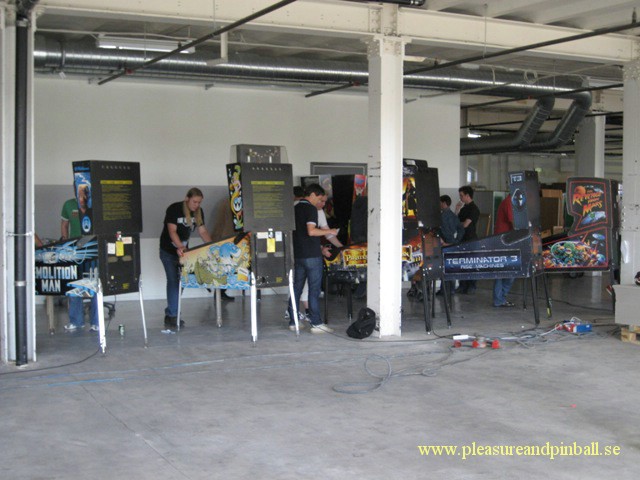 PMO - Pinball Master Open in Lidköping was the first major pinball events I participated in and it was then I understood that it were many people in Sweden who shared interest for pinball machines and who went around and met at various tournaments and events. This event is arranged by the nice pinheads in Silver-ball Maniacs Pinball Club.
It was a little nervous to participate in the contest since I could not all the rules for the various pinball machines. Since we played in the qualifying groups of four, I received advice and ideas of those who had more experience then me about the pinball's rules and different shots to pick score. As shown in a picture my score was not the highest but it was my first greater competition and it came to be more contests for me when it was incredibly fun atmosphere and very nice people who participated. I will mention that I succeeded in spite of my little experience of modern pinball machines to win a third prize in the jumbo final who went on a Theater of Magic (ToM), a very nice machine.

Pleasure and Pinball