My Gameroom!
IN THE BEGINNING!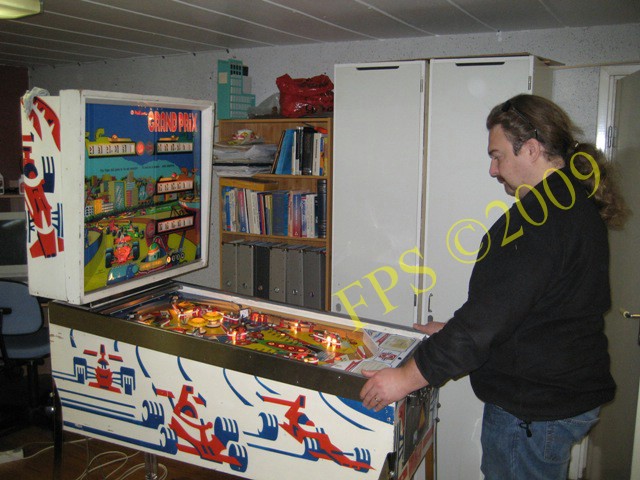 The idea about a own game room had not turned up yet at the end of 2006 when I became the owner of my first pinball machine a Williams Grand Prix 1976. Here we see my brother Christian test play Grand Prix, the machine was not completed renovated at this time, but in enough order so it was possible to play a game with the same ball, without playfield glass and by hand quickly lifting the ball to the ball shooter lane when ball drain, the ball shooter function was not functioning at this time.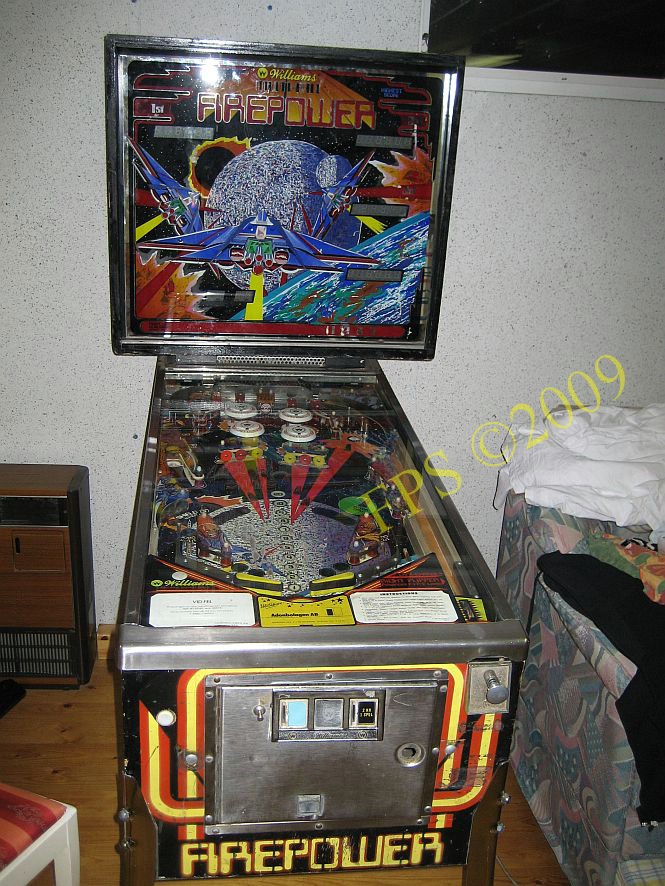 In early 2007, my collection was expanded with another pinball machine - Williams Firepower 1980.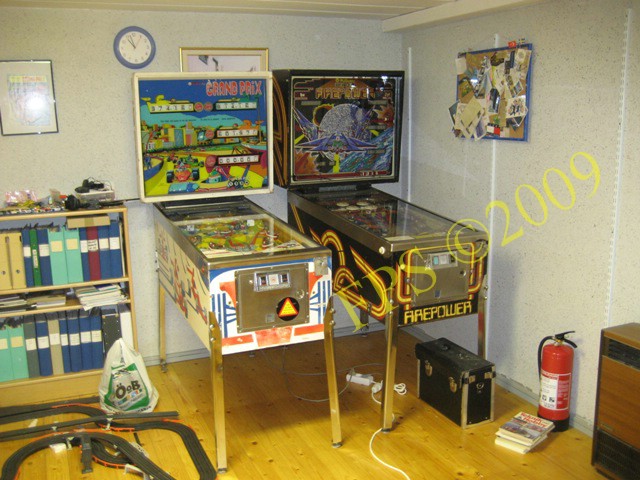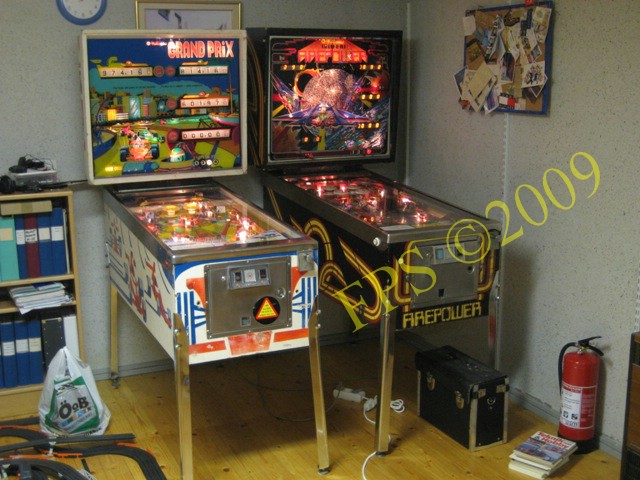 It was here I thought I could have the pinball's next to each other along one of the short wall of the hobby room and it was the start of my own game room.
MORE IS LESS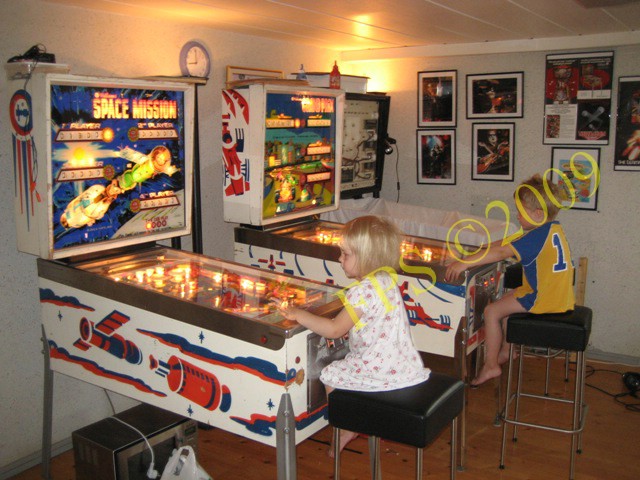 To my collection a Williams Space Mission 1976 was added in the spring of 2007 and now there was more machines to play on, more like a game room. Space Mission completed the Grand Prix, the first has no inlanes and a swinging target as feature, while the second has features as inlanes, double bonus in V-form and drop targets.
EM pinball's that is highly rated on the wish list and that would be interesting to complement the game room with is Bally Space Time or NIP-It or maybe a Williams OXO or Fan-Tas-Tic. Regarding SS pinball's, it would be fun to complete with a Williams Black Night or Gorgar and perhaps a Bally CENTAUR. Yes, there are many interesting pinball machine's to add to the game room - the list can be long.
In the picture we see my daughter Alva and my son Albin play on the EM pinball's, at this time 3 and 5 years old. Really fun that they like to play pinball's.
A good friend Alex with his son Gustav is visiting us and it was a nice evening in the game room!
THE "MONSTER" IS DOING ENTRANCE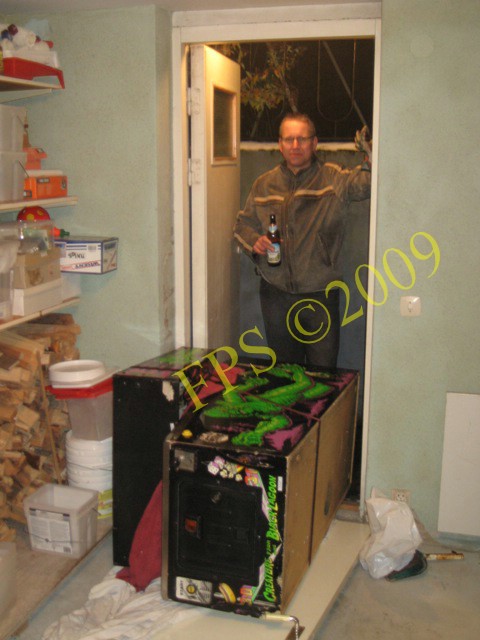 At the end of 2007 I acquired a Bally Creature From The Black Lagoon 1983. Thomas helps me to get the pinball down into the basement and to finally end up in the game room. It was tricky to get down the pinball for the basement stairs where there was not much space for us to move together with the pinball. Finally we got the pinball through the cellar door!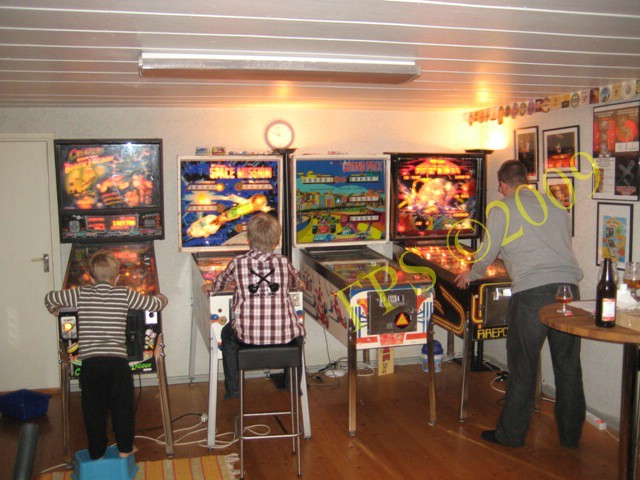 After hard work to get CFTBL into the game room we was deserved to play pinball. My son Albin test CFTBL.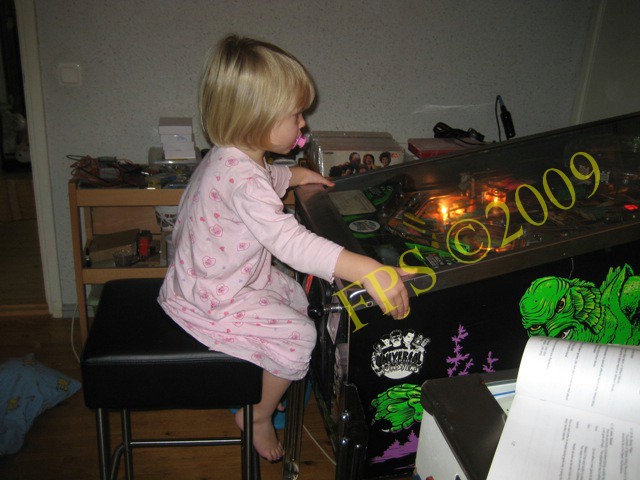 It seems to work very well with a teat! Yes, my daughter Alva tested CFTBL before bedtime, hopefully the monster gave her no nightmares!?!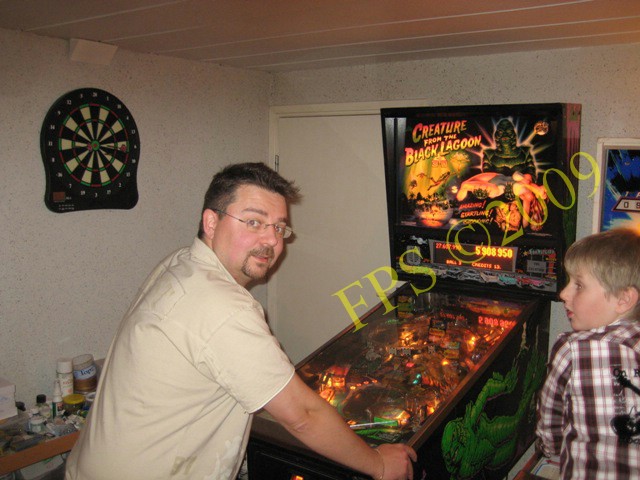 Later it was my turn, Thomas son Jonathan was also there and played.
MID 80´s GAME ROOM SECTION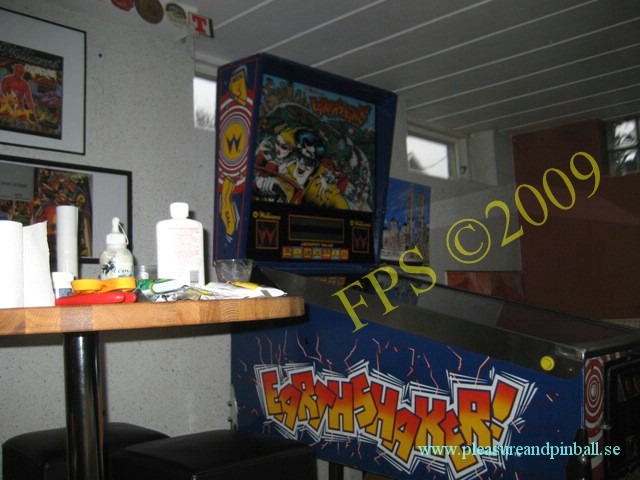 There is always room for another pinball. In spring 2008 a opportunity came up to acquire a Williams Earthshaker 1989 which I had been searching for a while. It fit well in to the other side of the bar table. Now my game room started to resemble as a small game arcade!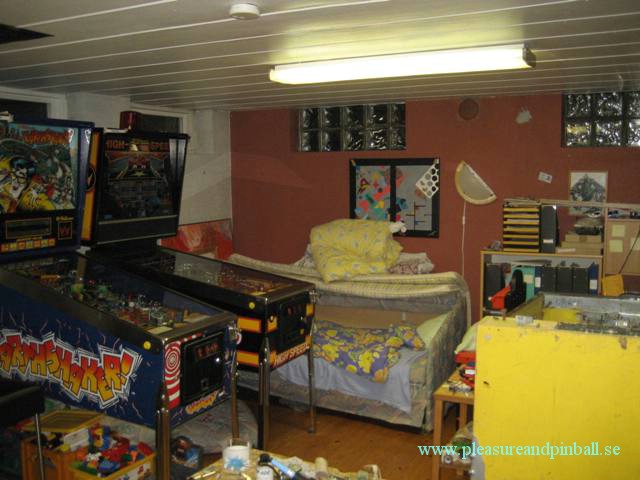 In autumn 2008 I had the chance to expand the "Mid 80's game room section" Hösten 2008 fick jag chansen att utöka "Mid 80´s game room section" with a Williams High Speed 1986.
GAME ROOM RENOVATION
In autumn of 2009 I decided to do something about my game room since it started to get crowded and the walls colors were too dull for my taste. I decided to re-paint the walls and move all the pinball machines alongs one wall to get a greater sense of a real game arcade.
There was an eggplant-like color "Passion" that I choosed to use as a fund wall and a lighter color on the longitudinal walls. The other short side became also a fund wall with a brown color "Chocolate". The room feels bigger now, with these fund walls and it became a lot more floor space available after renovation.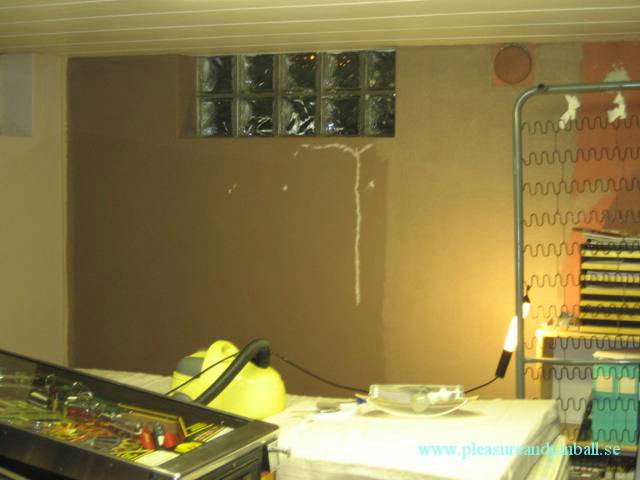 Below we see pictures of my game room after the renovation.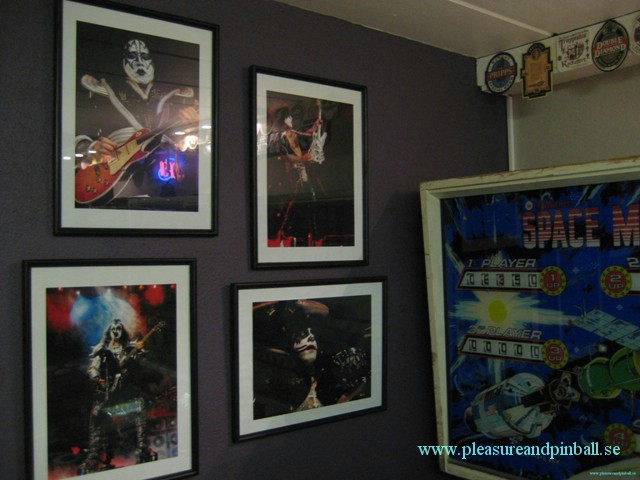 Our "household gods" had a spot on the wall next to the Space Mission.
GAME ROOM IN THE NIGHT
Below we see some night shots with lights.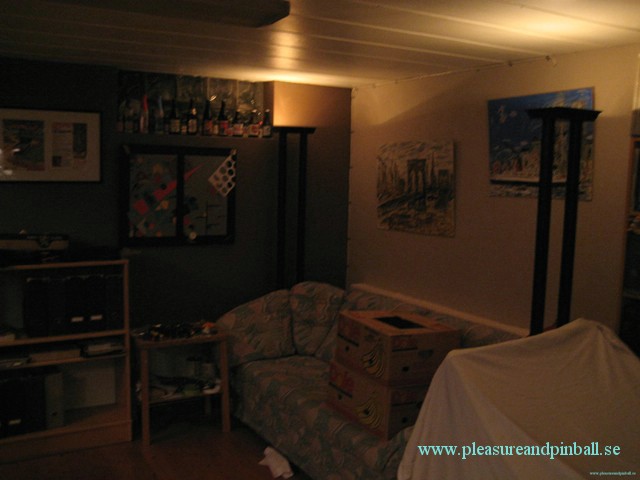 Here you can sit and rest a bit after a round on the Pinballs.

Pleasure and Pinball